Overhaul

Service

Turbo Machinery Services offers a comprehensive range of preventative maintenance, condition-based maintenance and servicing & repairs for industrial motors and alternators.

Our repair centers contain a wide range of specialist equipment developed to support our breakdown and corrective maintenance services.

We are committed to returning customer motors and alternator to their full working condition and act quickly to provide customers with detailed fault analysis and schedule of works. Once this has been approved, motors and alternators are repaired by our trained technician in supervision of engineers and highly experience supervisors; returned to customers and are ready to use.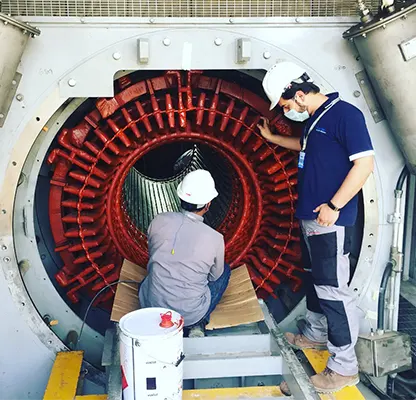 Our trained engineers provide the following services:
AC/DC motors and alternator overhaul, repair and rewinding
Dynamic balancing, vibration analysis and bearing condition and bearing condition monitoring
New motor installation
Bearing inspection, journal bearing inspection and clearance checking
Our motor and alternator overhaul technicians have extensive experience of working with different motors and alternator equipment. The services we offer to our customers, ensures that all motors and alternator are restored to their newly manufactured condition. Our service center provides the following
Overhaul services:
Inspection and test report
Winding and electrical component testing
Bearing and seal inspection (This looks for wear, defect, worn housing and shaft journals and lubrication condition)
Motor/Alternator winding re-varnishing (This ensure insulation system are sealed and protected from water ingress and reduce surface tracking)
Individual component inspection, testing and cleaning
Defective component replacement
Dynamic balancing of rotors on ISO Standard 1940
Thermal spray facility
Valuable

Client